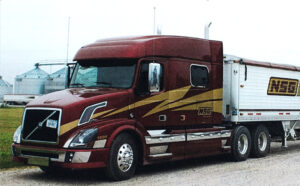 Affinity Ventures is pleased to announce the completed transaction of Nebraska Salt & Grain Co. (NSG), NSG Transport Inc. (NSGT), and Nebraska Special Grains, Inc. (NSGI) based in Gothenburg, Nebraska. Affinity Ventures along with Murphy Business of South Dakota acted as the exclusive merger & acquisition advisors. The transaction closed on August 21, 2020. This is the second successful transportation/logistics company transaction that Affinity Ventures has completed in the last 9 months.
NSG, NSGT, and NSGI collectively are a multi-division company providing transportation and logistics services, grain storage & sales, aggregate for construction, and a variety of ice control salt products.
Norm Geiken, founder of Nebraska Salt & Grain commented, "We are very pleased with the results of the sale of our business, we had 3 related businesses that have been consolidated into one. The Affinity Ventures team used their M&A experience to locate a buyer that fulfilled all our requests. They found us a great partner willing to continue the legacy of the company and offered continued employment to everyone. Thank you to Bruce, Matt, and Jerry, we appreciate the time and effort you gave to the sale of our business."
Affinity Ventures is a Top 20 Axial rated mergers & acquisitions firm focused on the lower middle market sector. The diversified team of professionals have completed over 250 transactions valued at over $2 billion. Since its founding in 1994, the company has completed M&A transactions in multiple sectors for their clients with privately held companies, private equity firms, international buyers and Fortune 100 public corporations. www.affinityventures.com
 When was the last time you had a valuation for your company? As made apparent from the continued success of closed transactions in multiple sectors, Affinity Ventures has both strategic and private equity firms with large capital funds to acquire companies like yours. Contact us today for a complimentary M&A market valuation of your business. Call 505-881-5352, or email Andrew Melendrez (amelendrez@affinityventures.com), Matthew Wieland (mwieland@affinityventures.com), John Bessone (jbessone@affinityventures.com), Cody Clemens (cclemens@affinityventures.com), or Bruce Burns (bburns@affinityventures.com) to answer any questions or start the valuation process.